Other than my Technomarine which is ancient (haha!), all my other watches are dressy. I was first lemming for a Michael Kors acrylic strapped watch but it's an old model and now a bit hard to find.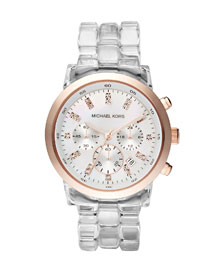 Nice huh? Unfortunately, the website is out of this particular one. They only have this
Which, at first glance, I found too plain
I looked and looked and saw this in a website. I was surprised that it didn't cost too much. Also a bonus that it's in white and gold, the same look I was going for. This is just a bit more sporty than the Michael Kors watch but because it's a Baby-G and not a bulky G-Shock, I was sold. I showed the photo to N and he agreed that it's a good choice. I told him I wanted to go to Time Depot to try it on for size, because I had intended to get it from an online seller.
But N was one step ahead of me, he actually bought it for me instead. Awww!
The size is just right. I love it!
Thanks, Hon!
P.S.
Now thinking about also getting the plain acrylic MK watch because I found someone who's selling it for less than Php 8k. Sleeping on it first. It's either that or a new purse.