I asked one of my best girlfriends to look for this book. I wanted Sabine to have it. Despite having explained breast cancer to her, I wasn't so sure she understood everything. This book would be able to "discuss" it with her the way she would grasp it best. The book arrived today (thank you, Ninang Chiqui!!!) and I had Sabine read it right away and she excitedly did.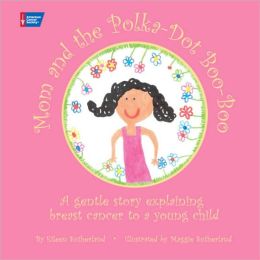 Moments later, I was surprised when she handed me a piece of paper with doodle on it. Not surprised that she made something because writing and drawing are what she always does when she feels like expressing herself. I was surprised because she did it in reaction to what she just read.
Awwwwww!
The drawing is much bigger than this but this is the part that touched me the most. Who would think that a 6-year old did this? Well, yeah ... the drawing of me is a slight giveaway hehehe. But she really is mature for her age. I don't know what prompted her to assure me of her presence but it's just so wonderful that she did. I particularly love the "Praise God" part. She told me that she learned this in Sunday School. Clap clap clap!
This is one of the best feelings ever! When my child tells me how much she loves me, it just totally erases every bit of bad vibe in my body. Not that I have a lot but Mommies, you know what I'm driving at, right? Sigh. I'm just so thankful because this really convinces me that my children are stronger than I think. I really shouldn't underestimate them. Then again, I'm a Mom and my job is to worry about them constantly.
Masarap na mahirap ang maging isang magulang. Agree?