Months after switching from a Blackberry to an iPhone, here I am, proudly sharing to all my list of "can't do without" iPhone apps. Yes, I think it's safe to say that I'm a total convert. My iPhone is now an indispensable tool and I blame everything on the world of apps available to all iPhone users, free or otherwise.
I think I speak the truth when I say that no iPhone user anywhere is without this photography app that allows you to make use of beautiful filters to enhance your personal photos!
#2 : Tweetbot (Twitter)
At one point, I had 7 different Twitter apps installed. I wanted to see which one had the best interface. After a few days of trying each of them out, I settled for Tweetbot because I found it to be the friendliest of them all.
#3: Facebook for iPhone
Just like Instagram, I think every iPhone user has this
#4: MMDA
This is a local app that's 100% useful and I applaud the MMDA for thinking of coming up with one. We all know how big an issue the traffic is for us Metro Manila dwellers. This app gives realtime updates on the traffic situation to help you plan your trips well. Kudos!
#5: Click the City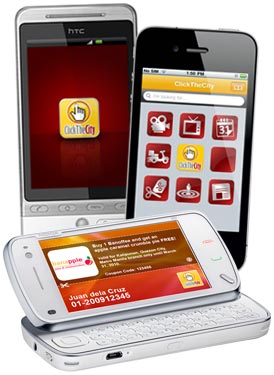 For information on restaurants, movies and the like. This is the best you can find.
As for the rest? I also have these:
Social Networking - Pinterest, Blogger, Tumblr, Yahoo Messenger, FB Messenger, Four Square, WhatsApp and Viber
Photography - VideoZoom2, Booth Free, PicStitch, MoreFun, PopBooth, CP Pro, P&P Collage, Dyptic Frames, Color Effects, Labels
Shopping - Zara, H&M, Charles & Keith
Games - don't get me started because I have a gazillion installed! But my current favorite is Draw Something, which is also so popular among iPhone users
That's it for now. As you can see, I'm making really good use of the phone. All these apps make it twice as difficult to leave it behind. If anyone would like to suggest other useful apps that aren't on my list, please feel free to do so!